At the Core
What's common to each of our firm members is faith in working together as a team. We are deeply resolved to think on a level where cultural progress and a sense of tradition collide. To do this, we are rooted in a foundation we consider Our Calling: Character, Clients, Culture and Community.
in the Community
We're lucky to have leadership that helps us stay committed to our core value that George Harrell and E.G. Hamilton initially established: elevate the quality of our community's built environment.
We're eager for any opportunity to give back to the communities we live in. To that end, we share hundreds of hours annually with work for the public good and welfare of our city. This is where we live and where we work. We enjoy focusing our time and talent toward making Dallas and Phoenix the best places they can be.
And because of our firm's unique local legacy, we're able to shape unparalleled possibilities in our own backyard, which keeps our focus on design that endures with a positive impact on our environment.
We're here to listen with open minds about what our cities need next so that everybody stands to gain.
We enjoy focusing our time and talent toward making Dallas the best place it can be.
Hearts & Hammers
Each year, our firm participates in a charity program that focuses on rehabilitating homes for people who otherwise can't make it happen. In this way, we're able to lend our skills and our time to making one person's life a little bit better. It's an opportunity to work with each other on something meaningful to our neighbors and our city. Also, it's an invaluable team building experience, during which there are lots of laughs and good memories made.
Arizona Kids Build
Founded by our very own Michelle Ray; Arizona Kids Build (AZKB) is an award-winning program that culminates in students building scale models of their own ideal shelters. AZKB received an Award of Merit from Arizona Forward's Environmental Excellence Awards in the Environmental Education/ Communication category. AZKB is a program that will help students understand the necessary elements required in designing a human shelter in the desert environment in which we live. Students will learn how to think about the structures they interact with every day and consider not only how they feel about them, but ways to improve them. This process incorporates math, science, art, communication and language skills.
Our goal is for students to gain and demonstrate an understanding of how the built environment directly affects their own well-being and that of the world.
We Care
For several years I have had the opportunity to participate and lead our firm's efforts for the We Care Holiday Event by Herman Miller in conjunction with the Boys & Girls Clubs of America to create a variety of holiday gifts for their friends and families.
We always have had outstanding firm participation and event turn out. Especially during the holidays we can make a real difference by giving our time and energy. I truly believe that we all get a great sense of satisfaction and accomplishment from creating and making. For just a moment I hope we helped some of those kids realize that satisfaction and sense of accomplishment from their completed craft project. The smiles from the kids make all our efforts worthwhile. | Carry McLain, AIA
Our firm's team has designed, created and provided approximately 300+ crafts projects for the kids each year.
Girl Scout Cookie Box Creation
For years, our firm has worked closely with the Girl Scouts of America in their annual "Cookie Box Creation" competition that goes on display at the Dallas Galleria.
The women in our office mentor the girls. We help show them that they can be professionals and teach them STEM ideas.
Bark & Build
The Bark + Build community service competition that I was a part of in 2015 was a great experience. It gave me an opportunity to work in a different architectural medium. It was a lot of fun to participate, especially because it raises awareness for a great cause--benefitting the SPCA of Texas. We had a great team comprising firms from the architectural community and various other industries.
The idea of a tennis ball as a dog house is simple, but actually, it took multiple disciplines to forge an idea that could truly make it a reality. The attention to detail in the design required construction with materials more like those used in sculptural artwork. The end result is an award winning dog house that OMNIPLAN, myself, and all the consultants involved were proud to showcase. | Andy Fast, Design Leader
Gingertown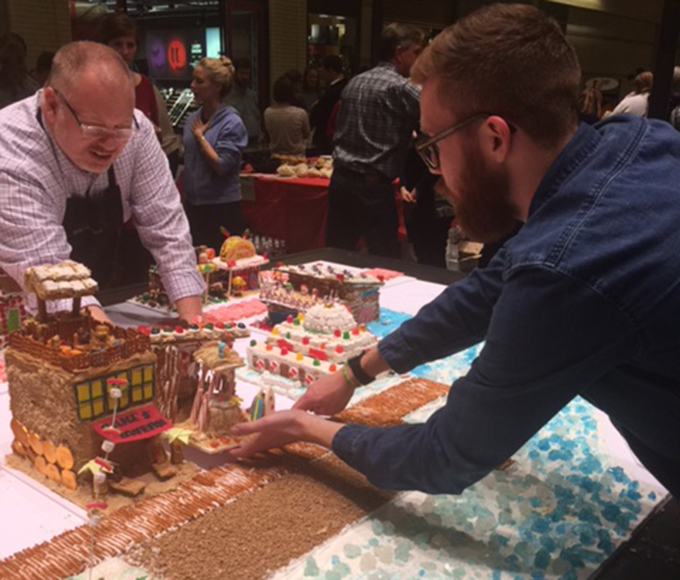 Gingertown is a great start to the holidays! Architecture and Design firms come together to build a themed town in only a few hours.The energy for a great cause is exhilarating. The fact that it is fueled with candy and icing and all types of sugar is only part of it. You plan for one thing, and end up with another…and the creativity that flows through there is amazing! The outcome is always a hit. Love doing it, love being a part of it. This past year, "the build" was at risk because the organizers usually provide the gingerbread for the build. The firms that have done it for so many years rallied and made their own gingerbread, and the build was on. It's great to see our community come together and maintain the tradition. | Jean Marusak, AIA
You plan for one thing, and end up with another…and the creativity that flows through there is amazing!