Returning to Worship: How Churches are Coming Back Together
Last week, two leaders of our Worship Practice, Mark Holsinger and Aaron Farmer, moderated a panel on the steps needed to return to worship with fantastic panelists from Munger Place Church, Highland Park Presbyterian Church and Watermark. The panel, organized by OMNIPLAN and attended by clients, vendors, press, fellow architects and designers, aimed to understand the challenges that many houses of worship are facing when deciding how and when to open their doors again.
While the Governor allowed churches to reopen with restrictions beginning on May 1, many remained closed until more recently out of an abundance of caution. With Texas officially in Phase 3 of reopening, more houses of worship are welcoming congregants back. However, how the church operates with members looks different across congregations. These variations offer a glimpse into the different approaches each church is taking, as well as insight into the role each church plays in their own community.
All three of the panelist's churches have reopened in some capacity -- one's doors are open wide while two others are just beginning to crack open. Watermark has asked all 200 staff to return to the offices, held outdoor services, one drawing nearly 1,500 people, and last week reopened the worship center to congregants. Following the state's phased reopening and always monitoring to ensure an intentional opening, Watermark is giving control to congregants – people may take as many precautions as they need to feel comfortable. Watermark emphasized that it is a "face-to-face community," highlighting an important role it plays for its congregants – that of a physical place for people to gather. This desire to be a home appears to drive many of its decisions. However, to Watermark, one of the most important components of reopening is respecting both sides of people – those on the side of caution and those who want to come together.
Towards the other side of the caution spectrum is Highland Park Presbyterian, which has been polling the congregation to gauge where people are comfortable. Generally, the results come back split – some in favor of opening while others feeling the need to remain at home. Emphasizing the idea that "church is not a place," HP Pres has been gradually moving toward being together, just beginning to offer outdoor services while maintaining distance, requiring registration, providing sanitizer and requiring masks. Similar to Watermark's challenge, HP Pres emphasized the need to honor both ends of the caution spectrum, especially while trying to ensure everyone feels welcome.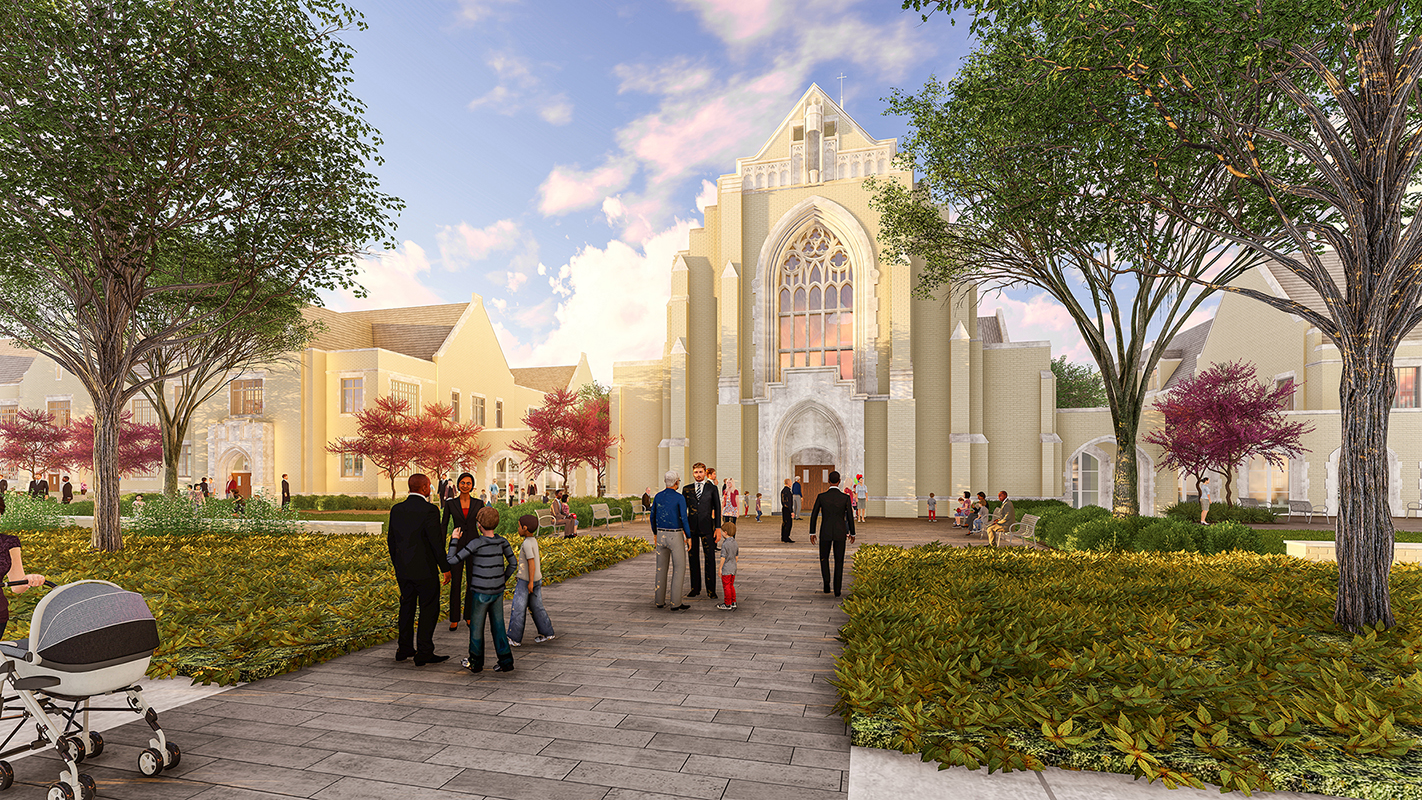 Rendering of Highland Park Presbyterian Church renovation and expansion | Highland Park, Texas
For Munger Place Church, this pandemic presents a multi-faceted obstacle. The church is located in an urban area with plenty of foot traffic and is an historic building without much space to maneuver. As a result, there is a wide variety of visitors who are naturally going to be close together as soon as they walk into the building. Therefore, the Munger Place has held outdoor services where each family occupies one parking space in the parking lot and has streamed those services online for anyone uncomfortable with being together. When discussing how they're gauging desire to return, Munger Place explained that "people vote with their feet," meaning they'll know the level of interest by how many actually show up.
These individual situations allude to a broader situation facing all types of organizations – governments have allowed churches to reopen but are not regulating how that looks in practice. In our role as architects, we are now being tasked with answering those questions for our church and other clients. During the panel we discussed ways to improve navigation signage through the facilities to minimize close contact when there are large crowds during service or increasing shade outdoors for churches that are not hosting indoor worship yet. But long term, architecture will play a more significant role in the changing nature of worship. As the panelist from HP Presbyterian pointed our, many churches are designed to encourage close contact, where people can join together as a community, run into each other and make connections in the hallways and lobby. Church design has revolved around that mentality for many years, but that may change post-COVID.
We have always designed houses of worship with certain tenets at the forefront, but we now have new priorities to add to that list. The way we think about church design is evolving rapidly as the world changes, but learning from each other will allow everyone to transition into the post-pandemic world much more smoothly, and more importantly, together.
Connect with Us
Enter your email address to receive the latest news delivered right to your inbox.