Great Reasons Your Firm Should Consider OMOT
OMNIPLAN had the opportunity to participate in On My Own Time this year. It is an event that is encouraged by the Business Council of Arts. They provide the guidelines for the artwork to be displayed by a company's employees or employee's children. From this exhibit within the office, they have a juror select pieces to be displayed at NorthPark Center.
We had lots of participation this year and a wide range of submittals from black and white photography, color photography, paintings, and sculptures. We also had five of our coworker's artwork displayed at NorthPark for two weeks, with an opening reception.
Here are the top five reasons I think your firm should participate in On My Own Time.
1. Learn Something New
Most of the time, we only see the "work-side" of a person. This exhibit showed a different side of our co-worker's lives. There would be comments from clients and consultants, asking "Who knows how to quilt at your firm? Did you know that there is a glassblowing class in Dallas?" This was an opportunity to see the artistic ambitions of co-workers, and hear a new story about their lives.
2. An Opportunity to Make Artwork With Your Children
Many coworkers will make the excuse, "I'm not very creative" or "I don't have the time to create a piece of artwork." Yet by doing On My Own Time, this creates an opportunity to engage the whole family. Chris, one of our job captains, drew a silhouette of his children and encouraged them to finger paint with two distinct colors. Not only is the final product beautiful, but it is also a piece of art they will treasure for years to come.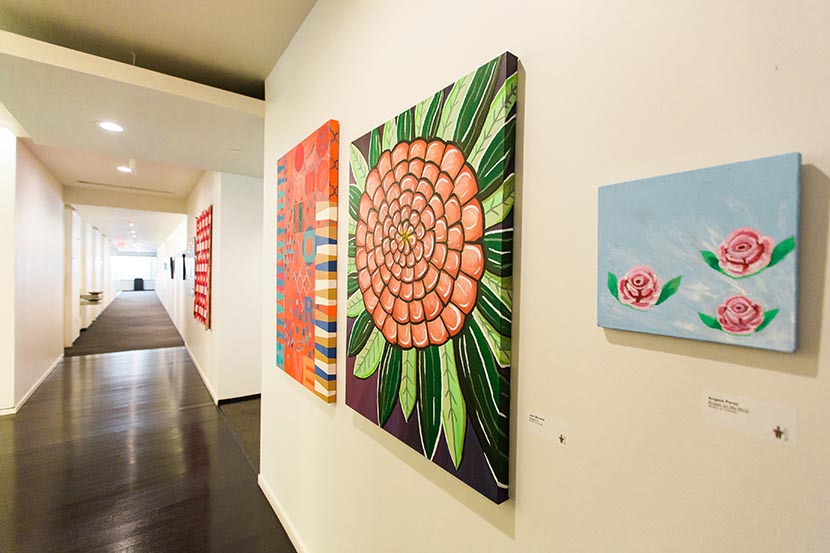 3. Talented Works of Art from "Back in the Day"
Since this is a firm of architects; a few people felt out of practice when it came to painting or sculpting something new. As a result, they brought back art pieces from high school and college. By revisiting the glory days of art classes, we can see how the person has changed and matured. We also can see what their interests were and how some things never changed.
4. Travel Ideas
Photography was a very common contribution to this art exhibit. The photos were not just questioned on the whereabouts of the photo but also the development of the photo. With the rapid change of technology, it's hard to imagine the days where cameras had film that needed to be developed in dark rooms. With photography, we start to understand how the built environment has changed and also how the beauty of nature endures. I always like to ask the photographer where they took the picture and when they were there.
5. Celebrate Your Accomplishments
In the daily grind of the work day, it's hard to remember to stop and pause. By having this art exhibit, an ordinary hallway became a moment to wander and gaze upon beauty. It became an opportunity to celebrate your colleagues' creativity and talent—and to await for next year's contribution to OMOT.
Connect with Us
Enter your email address to receive the latest news delivered right to your inbox.